Automotive
ProMATIC has designed and built many turnkey installations for Tier 1 and Tier 2 Automotive suppliers including multi-station Assembly Lines and single-station Lean Cells.
These applications include robotics, leak-testing, laser marking and measurement, dispensing systems, servo-controlled press systems, automatic torque-driving equipment, vision systems, vibratory bowl feeding systems, and PC/PLC Control with Data Tracking capability.
Assembly Systems are built in both linear (synchronous and a-synchronous) and rotary configurations using palletized conveyor systems and rotary dial machines.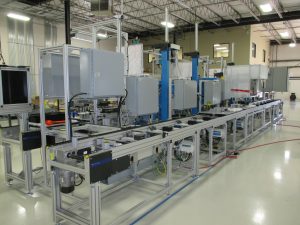 Each project is built to customer specifications to ensure that the component/assembly produced meets the customer requirements of production rate and quality. Equipment run-offs (FAT – Factory Acceptance Tests) are done at the ProMATIC facility to prove the capability of the production equipment before shipping and installation.
Production Data Tracking is a major component of most Automotive automation allowing the Automotive supplier to record production data on each item produced by serial number. RFID and Bar Code reading systems are used to track the components through the process and production data (torques, press forces/distances, vision inspection information) is recorded for each component and process.
Watch this video to see an overview of the types of projects ProMatic has automated. Project videos also available – Click Here to view them.