ProSMP
A unique manufacturing platform that begins with the end in mind.
The production launch of a new product can be a risky capital project if not planned properly.  One significant variable is the future production capacity requirements for the manufacturing line.  If the manufacturing equipment is not designed with expansion capacity in mind, the future expansion upgrade will require completely new equipment or expensive additional labor.  Fortunately for ProMATIC Automation customers, that expansion planning has already been done.  
Engineers at ProMATIC have developed the Scalable Manufacturing Platform; also known as "ProSMP".  Designed to begin as a Lean Manufacturing Cell for small volume production, the system can expand incrementally to potentially become a fully automated manufacturing line. Individual station controls allow either synchronous or non-synchronous configurations.   The base equipment includes provisions for incrementally expanding the level of automation to suit your specific growth plans.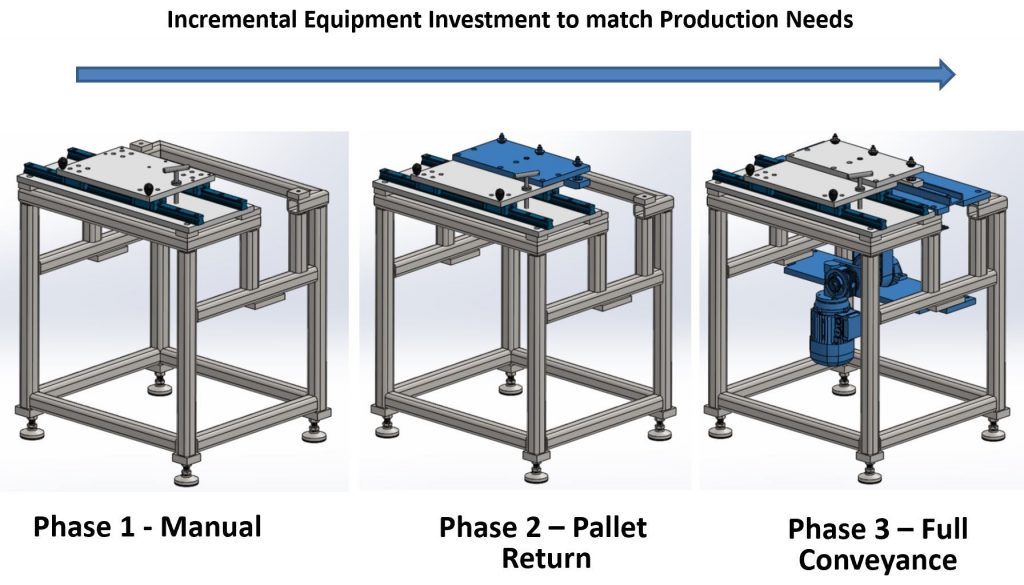 ProSMP Advantages:
Scalable

The "base" ProSMP platform is not discarded when the demand for more capacity occurs. We simply add the appropriate pre-configured automation to meet the increasing demand.  This scalable and modular approach to expansion results in impressive ROI and easy commissioning.  Automation upgrades range from a simple Pick and Place module for a manually transferred pallet to a fully automated pallet transfer system with automated assembly devices at multiple stations.

Rigidly Guided Pallet

Unlike commonly used power and free conveyors, ProSMP rigidly guides and supports the pallets throughout the line and thus eliminates the need for typical locating and load support devices.

Accessiblity

The base design of the ProSMP provides flexible accessibility for production processes to occur from either side of the conveyor.

Flexible Controls

The ability to incorporate individual station controls allow either synchronous or non-synchronous configurations for the production line.

Common Components

The ProSMP system utilizes common components and "off-the-shelf" replacement parts for a maintenance friendly platform.
ProSMP station examples (Lean station, Screwdriver station, Press station, Robotic station):
Armed with the ProSMP platform, engineers at ProMATIC Automation will quickly develop a production platform with exceptional capability, modularity, and ROI for the launch of your new production line.