Our Team
The ProMATIC TEAM is made up of Engineers, Designers, Programmers, Machinists, Fabricators, and Assemblers all focused on the single goal of providing world-class automation systems to specific customer requirements. Challenges during the design/build process are attacked with the team approach to find the best solution with all aspects of the system construction, usage, and maintenance considered. The Team Approach allows the same personnel to be connected to the project throughout the build-life of the system from concept to implementation. This provides a sense of ownership and accountability resulting in high-quality automation equipment for the customer.
Engineering/Design/Programming – we currently have (11) degreed engineers on staff with (1) of these individuals certified as Professional Engineers. The Mechanical designers are talented 3D modelers with extensive experience with AutoCAD, Inventor, and Solidworks CAD software. The Electrical/Controls engineers are experienced with PC Control systems and platforms such as NI Labview as well as multiple PLC Control platforms (Allen Bradley, Siemens, GE, AutomationDirect, Omron, Bosch, etc…).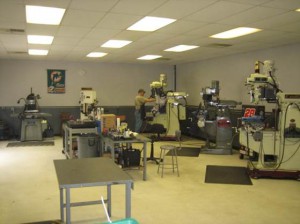 Machining/Fabrication – our Fabricators are certified Welders with experience welding all types of structural materials (steel, stainless steel, aluminum, etc…). Our Machinists are Tool and Die makers and custom machining specialists with many years of experience in various industries. They are proficient with both CNC and manual controlled machines to produce precision machined components within tolerance and according to specification.
Assembly – The assemblers at ProMATIC are experts in building custom equipment with many years of experience with leading automation technologies. Most are cross-trained and can handle any area of assembly with a high level of workmanship. Many are certified in the areas of pneumatics and hydraulics and electrical controls.