Assembly Lines

 Parts Handling:
Synchronous and non-synchronous lines
Multi-station, palletized power-and-free conveyor systems
Walking beam configurations
Pick and Place devices with vacuum and gripper tooling
RFID and Bar Code Scanning (hand-held and stationary)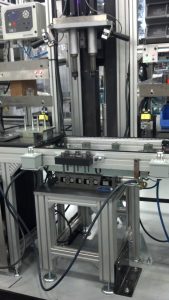 Station Configurations:
Robotics (loading/unloading/ assembly/dispensing)
Servo-press
DC Torque Application
Automatic Parts Feeding (vibratory)
Vision Inspection
Pick-to-light Operator Assembly
Laser/LVDT Measurement
Dispensing Systems (Adhesives, Lubricants, etc…)
Leak Testing (mass-flow and pressure-drop)
Electrical Testing
Control Configurations
PC and PLC Control with multiple HMI (Human Machine Interface) locations provide Data Tracking capability and detailed operator instructions and fault messages for troubleshooting the assembly process.
Multiple Controls platforms are available (Allen Bradley, Siemens, GE, AutomationDirect, Omron, etc…) as well as HMI brands.
Designs are done with ergonomic and safety considerations for each operation.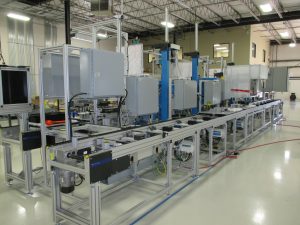 Watch this video to see an overview of the types of projects ProMatic has automated. Project videos also available – Click Here to view them.