Robotic Cells
ProMATIC offers full integration of Robotic systems and turnkey supporting automation equipment including End of Arm Tooling (EOAT), appropriate safety components, and PLC/PC Controls integration with accompanying equipment.
ProMATIC Automation, Inc. is an Authorized Integrator for Fanuc Robots and has experience with many other brands of 4-axis and 6-axis Robots.
Common Robotic applications
Assembly
Dispensing
Machine Tending
Palletizing
Packaging
Testing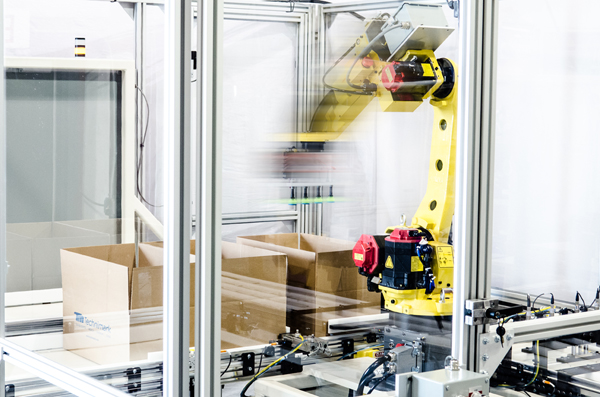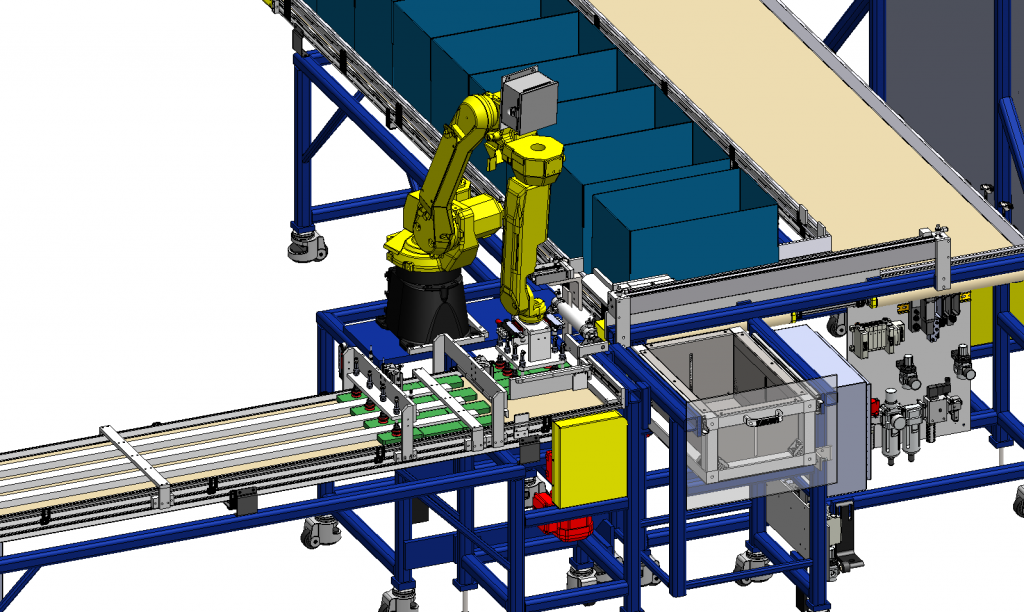 ProMATIC engineers are experienced with simple pick and place applications as well as complex 3D path programming with multiple Robots and collision avoidance.
Complex EOAT development is possible at ProMATIC with 3D modeling and 3D robotic simulations.  CAD modeling assists immensely in the design of vacuum and mechanical gripping systems, servo positioning, and dispensing technologies.  3D Robotic Simulations can be provided specific to the application to investigate possible cycle times and Cell configurations.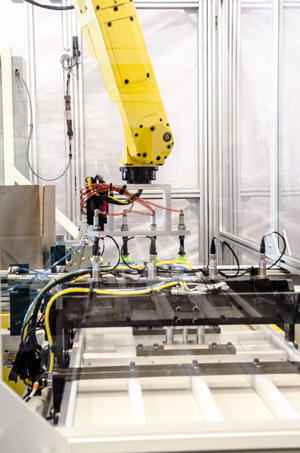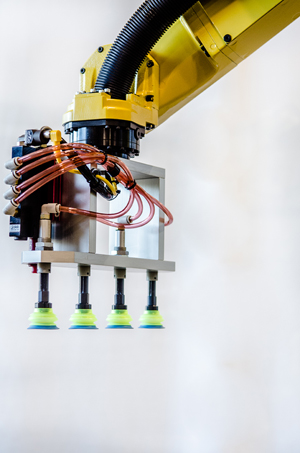 Another Fanuc robot performing a simple packaging application, where the custom ProMATIC EOAT handles a centerline distance change in transfer and can pick slip sheets or customer parts:
Our ProSORT system handling over 180 parts per minute:
Dual 6-axis ceiling mounted robots; involves collision avoidance, vision guidance, custom EOAT, servo tracking …
A Fanuc LR Mate with custom 6-up EOAT, liquid spray system and tray handling system:
Multiple SCARA robots mounted on linear motors working on a common control platform: