Lean Manufacturing Cells
ProMATIC specializes in the design and build of Lean Manufacturing Cells allowing the human operator to interact with machine processes in a safe and ergonomic way to provide an efficient manufacturing process.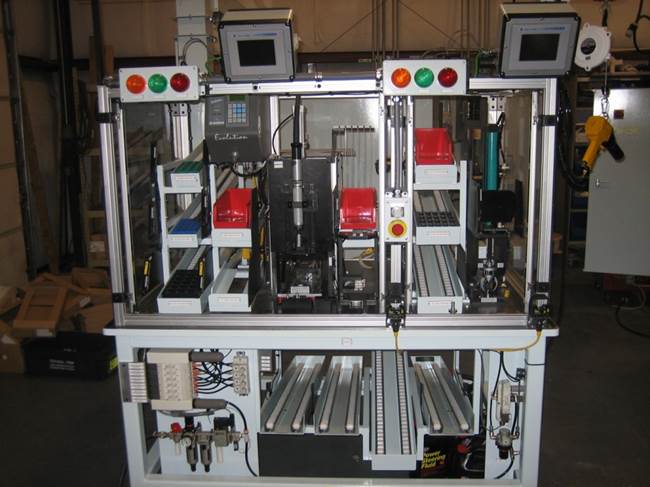 The following guidelines as well as other applicable Lean Cell principles are used in the design process:
Machine Width
The machine width will be minimized to be as small as possible to maximize floor space along the direction of material flow. This will reduce part transfer distances and optimize material flow.
Ergonomic Efficiency
Parts will be presented to the operator within a comfortable reach to provide the most ergonomically efficient assembly process.
Mobility
The Machine will be mounted on Casters (if requested) to provide mobility.
Eliminate Non-value operations
All non-value operations will be eliminated in the manufacturing flow to maximize efficiency and produce only value-added assemblies.
Many automation technologies are incorporated into Lean Manufacturing Cells including Torque Driving, Servo/Pneumatic/Hydraulic Pressing operations, Vision Inspection Systems, Leak Testing Systems, Dispensing Systems, De-burring operations, etc…
ProMATIC has developed a proprietary PC Control System for Lean Cells that eliminates the need for PLC Control and programming and allows the Cell to be floor-configurable from menu-driven programming by the operator, maintenance technician, or manufacturing engineer. RFID and Bar Code scanning allow detailed Data Tracking capability for each process with this system.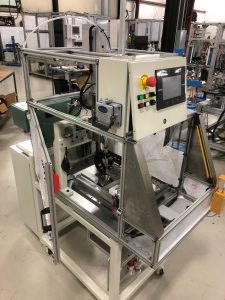 Lean Cells are designed to allow future configuration changes with change-out tooling. Customer specific tooling can be quoted separately from the base machine for budgeting purposes and cost allocation.